Competitive Advantage
Include the latest trends in performance management and best practices.

OKR (Objectives & Key Results), Continuous Feedback, 1:1 Meeting, Crowd-sourcing Feedback, 360 Feedback

Services optimized for collaboration-based agile organization management.

Core collaboration tools from agile organizations, such as Task Board and Scrum, can be used for work.

Continuous and flexible goal management

Closely connected work-performance management, real-time performance management, and feedback are possible in the process of work.

Crowdsourcing-based recognition and feedback.

Collects 'like' and additional opinions from colleagues as well as manager feedback to induce natural multi-/multiple feedback.

Create meaningful information using Data Analytics & Visualization.

All accumulated performance-task-feedback records are organized to be recognizable at a glance through data analysis and visualization. Also, you can use this for 1 on 1 meeting, review, and evaluation.
Modules & Features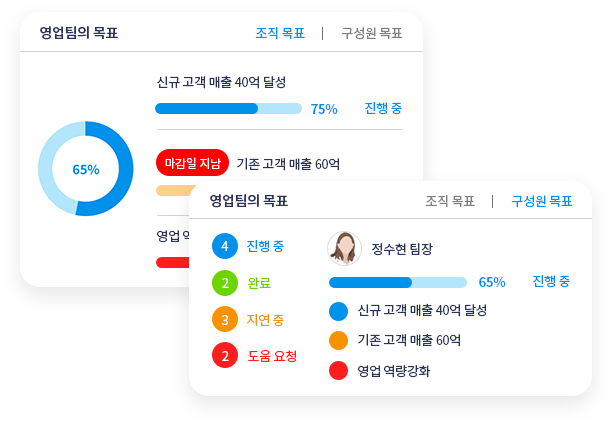 Update and share your goals in real time.

Check your goal achievement rate in real time.
Share and set the status as well as the achievement rate of the goal.
Check your colleagues' progress on goals and collaborate immediately if necessary.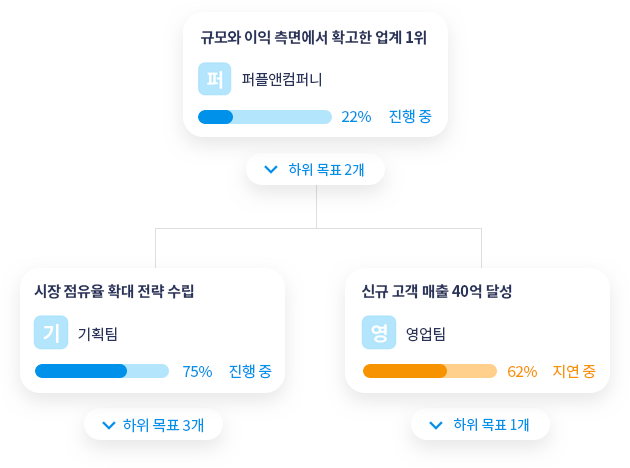 Align and affiliate objectives.

Align from top-level organizational goals to individual goals.
Check the overall goal status at a glance through the goal map.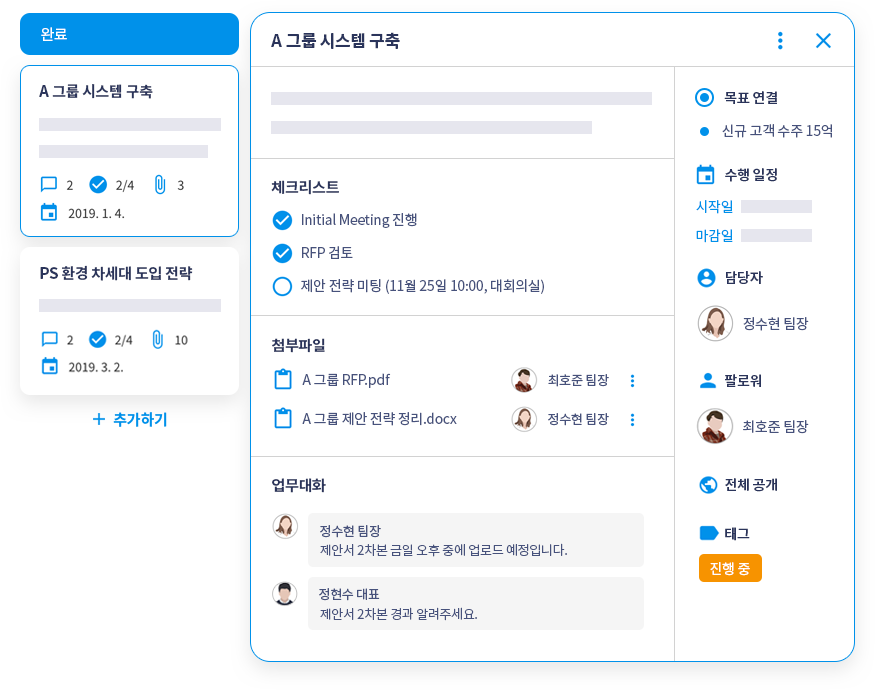 Systematically collaborate
using task boards.

Classify the task list by work group or level,
and organize tasks systematically.
Easily share main contents, checklists, and
attachments with colleagues.
Communicate in real time using comments.
Use the task timeline to check the progress
of work at a glance.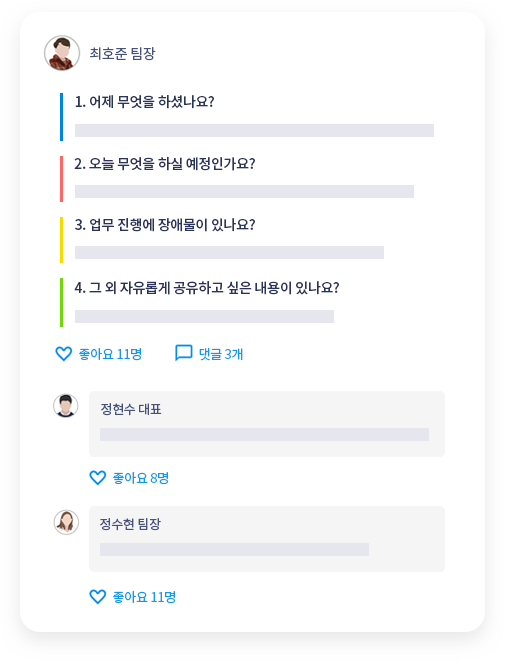 Share work progress using scrum

Scrum is the featural collaboration method of agile organization.
Regularly share and collaborate with colleagues on the progress of work, future directions, and issues that need to be resolved.
Communicate and leave feedback in real time by writing comments.
Scrum can replace weekly reports.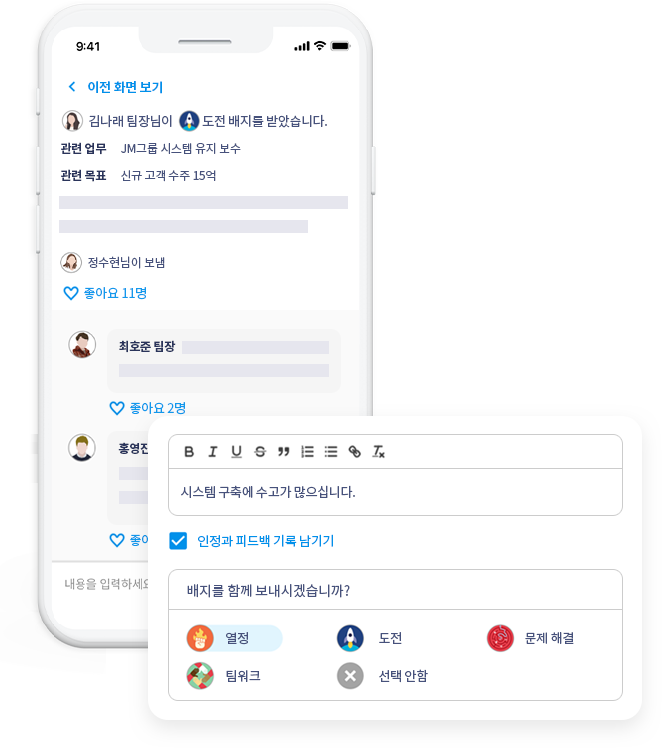 Supports real-time interactive feedback.

Leave feedback in real-time during working
Intuitively leave feedback using badges that embody core values or capabilities.
Makes the feedback even richer using empathy button and comments.
Collect feedback from manager-members, as well as collaborative peer feedback in crowdsourcing manner.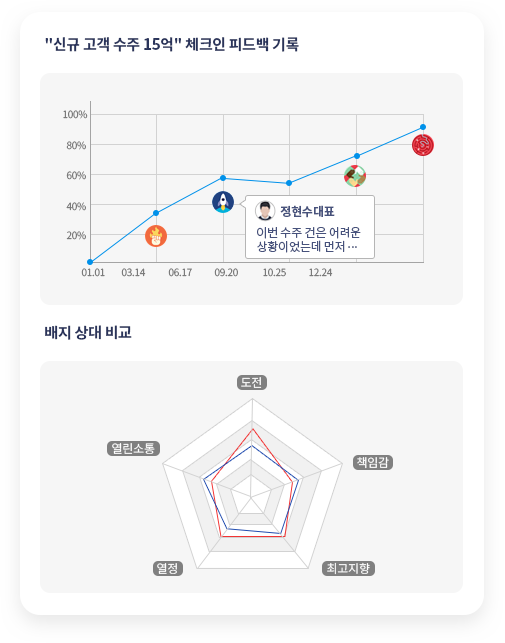 Review based on data and feedback.

Systematically accumulate feedback left in real-time during the work.
The accumulated feedback is visualized at a glance using Data Analytics & Visualization.
Check the results of the goal, but also the progress of achievement at a glance.
Check the talent types of members at a glance through the feedback graph.
Full Features List
Objectives

Agile Performance Management

On-demand Goal Adjustment

Check-in

Approval Process

Recognition and Feedback

Badge

Send Feedback

Request Feedback

Collaboration

Task Board

Real-time Notification

Checklist

Share Attachments

Review

1:1 Discussion Based Review

Talent Snapshot

Objective Check-in History

Feedback Graph

Scrum

Daily Task Sharing

Weekly Task Sharing

360 Feedback

Continuous 360 Feedback

Feedback Template

1 on 1 Meeting

1 on 1 Meeting Schedule

Open Comment

Hidden Note

Activity Timeline

Task to Goal Update Timeline

Real-time Push Alert of Main Activities

Search

Goal Search

Search for Work Materials

Employees Search
Client's Feedback
The number of emails has decreased significantly. It's easy to manage and look up tasks.

In the past I was only reviewing my direct reports from my own perspective, but I'm finding different strengths of my direct reports with real-time peer feedback.

Previous 1:1 meetings were tough due to lack of topics. But now I just have to take a quick glance at the person's goals, feedback, and recognition to make the conversations more meaningful.

I just need to look up recognition and feedback to see how my colleague is doing. I can easily see other colleagues' opinions on their strengths. Since there are additional feedback and affirmations from other colleagues, they're very credible and comprehensive.

It was hard to find all kinds of data and review records all over again when I tried to evaluate them at the end of the year. Now, I can write the assessment easily enough by simply leaving a feedback record whenever and just reading it over before writing the assessment.

In the past all the assessments were done at the end of the year, so it felt like a lot of the evaluations were based on the manager's gut feelings and personal relationships. The data used for evaluations are recorded in real-time now so they feel fair and unbiased.

An atmosphere of mutual recognition and praise has spread, making organizational culture much softer, and employees' engagement has increased.